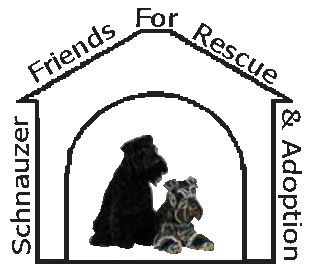 A Non-Profit 501(c)(3) Organization
Copyright © 2008-2014 All Rights Reserved

SFRA is a 501(c)(3) Non-Profit Organization
and is NOT associated with any other
Cincinnati-based rescue organization.




Website developed and maintained by
Website to the Rescue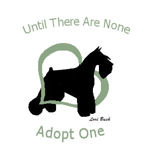 Use GoodSearch for your internet searching, and you are automatically raising money for our Organization.
(Click Below)

Contribute to our Organization
with a donation of any size
(Click Below)
Our Available Miniature Schnauzers

Saving the life of one dog isn't going to change the world,
but saving one dog's life will change the world for that dog.

Don't forget to sign our Guestbook so we know you visited us
Feel free to contact the foster parent listed in the rescue's bio for more information about that dog, BUT the FIRST step to any adoption is the completion and submission of our online application. Please CLICK HERE to complete our application to adopt.
Most of the time, the adoption fee an adopter pays does not cover the cost of the medical care these little ones need when we get them. Most need to be spayed or neutered, updated on all of their shots, and tested for heartworm. Some are sick due to improper care and need to be on medication or have other surgeries, which can be very costly. Thanks to your generosity, we can save another life and get him or her placed in a loving environment. To Sponsor a Rescue please click on the PayPal Button beneath the Rescue you wish to sponsor. It will take you to the PayPal log-in screen. The dog's name is filled in for you and you can complete the amount you wish to donate to help us out. Thank you in advance for your thoughtfulness and commitment to rescue.
Sponsor A Rescue
Special Needs Dogs Have Love to Give, Too.

Meet Rusty
aka Vinnie
UPDATE: Vinnie passed away in early August 2012. We extend our sympathies to Laura on her loss and accolades to her for giving Vinnie an awesome life with great quality, caring, and much love. God speed little one.


Vinny was one of our rescues. Although Vinny has already been adopted, we are posting him on this page as a representive of all Special Needs Dogs out there. Even a Special Needs Dog deserves a forever home, and even a Special Needs Dog can provide lots, and lots of love to his/her people.

This is a testimonial letter we received from the adoptee of Vinny.

Hi Nancy,

I think we have written back and forth before about his health issues with diabetes and his eyes. Just to update you, he has had diabetes for a couple years now. He is doing very well, with the exception of his eyes. Anyway what happened is, he got cataracts and within about a month of that I took him down to Ohio State Veterinary College. Unfortunately, they said he was not a good candidate for surgery, so at that time I was just given drops for his eyes. In a few months when we went for a re-check his eyes had gotten worse and they recommended completely removing them. They were bright red and looked swollen to me and basically were so inflamed that they were probably hurting him. It was a hard decision to make since I knew I would miss looking into his beautiful eyes, but we went ahead for his sake and took out both eyes. He was already blind, so it didn't really matter. Now he is doing just perfect. He gets around the house and yard, and in and out of the doggie door so well no one would know that he can't see. He has extreme sensitivity outside when we our on our walks to miss obstacles and change course so easily and is keyed to my voice so well all I have to do is say whoa and he shifts his direction.

What I wanted everyone to know is that a blind dog that has to get shots twice a day is really no problem at all. He is very easy to take care of and not seeing has not changed his personality. He still will play and wrestle with the other dogs and comes gets his loving when needed. Only thing he can't do is jump up and down from the couch or bed and yet he has done that once in a thunderstorm when he wanted down. Everything has worked out pretty good...except for my credit card of course. The operation was about $1000.00.

Hope everything is going well for the rescue group.
Take care,
Laura J.

Interested in one of them?


Lovely, lovely Alice-Alice is another that is simply a wonderful sweetheart that is having trouble understanding why she does not have a home to call her very own. She's been in rescue some time now and would like more than anything to have her very own home. She's happy and comfortable in her foster home, but it's not the same….she asks for nothing and mostly naps all day, Like all of our foster dogs, Alice is altered, comes with all of her vaccinations up to date, on heartworm preventative. Alice is a Schnauzer mix, approximately 8 years old, that came to SFRA from a shelter in Western Kentucky after being picked up as a stray. You see, Alice wandered from home but could not find her way back because she is deaf-she was unable to hear her owners calling her name when they surely searched for her. While Alice may be deaf, she does not let that define who she is-it's simply part of her. She woofs to tell you it's dinner time, goes to the door to go outside, and sleeps peacefully most of the day while she awaits someone to love her enough to give her a home for whatever time she may have left.

If you'd like to learn more about Alice, contact her foster mom Susan, in Lexington, KY at
saveaschnauzer@yahoo.com for more information or click here to complete the online application to adopt.
Sponsor Alice by clicking
on the PayPal Button
Alice

Lulu is about 9 years old and while she's happy and loved in her foster home, she's been wondering of late why she doesn't have a home to call her own. She's a laid back gal, just completely content to cuddle in the chair with you while you watch TV or read the newspaper. Lulu is everything you could be looking for in a companion and is a gorgeous girl, to boot!! She does prefer a quieter home, but crates extremely well if it's going to get rowdy or exciting! She promises to be a very good girl and to love you always.

If you'd like to learn more about Lulu, , please email my foster mom, Susan in Lexington, KY at saveaschnauzer@yahoo.com or click here to complete the online application to adopt.
Lulu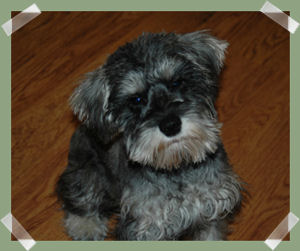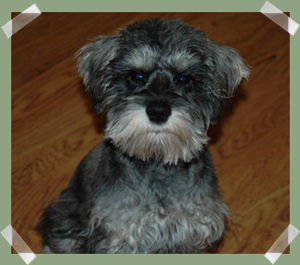 Our Sweet Sam is just the bestest little boy! And oh so handsome! Sam just wraps his paws around your heart and hugs oh, so sweetly. Little Sam is now 15 mos. old but has yet to find that special person that will look past his medical condition and give him a forever home. Sam has "dry eye". That's to say his eyes are not producing enough tears to keep them well lubricated. He is on a couple of medications that must be given at regular intervals throughout the day (not overnight). The medications cost approximately $100 a month. So, Sam has a couple of very specific needs. In return for medications given regularly, he's full of loving and lives to please and loves to play with his doggy foster brothers and sisters. The right home for Sam must be willing to take on the expense of his medications and be available to do his medications several times a day every day of the week. Sam will make an awesome friend for someone who is willing and able to manage his medical condition. It really is not a big inconvenience to give him the medications in return for all of his entertaining antics and playfulness, as well as his complete devotion to his mom/dad.

If you want to learn more, you can complete the online application to adopt or contact his foster mom, Nancy in Cincinnati, OH at kismet1@fuse.net.

NOTE: While Sam is in rescue and while he has been in rescue for the past year, his bills have gone on. In addition to the normal things like food and toys and vaccinations, we have the bills of his monthly medications for his eyes (approx. $100 per month). If you think he's awesome but are not in a position to take on the management of his dry eye condition, yet still want to help Sam and our other rescued babies, SFRA could use some help with his expenses for the period of time he is in rescue. Please make a donation to our PayPal account by clicking on this Donate button.

or by mailing a check to 10558 Mill Road, Cincinnati, OH 45240.
Support Sam by clicking
on the PayPal Button
Sam

Support Lulu by clicking
on the PayPal Button
Have you seen our sweetheart Dutch? Such a handsome fellow and so very silly and happy. Dutch is loving the room to roam at his foster home and chasing birds and varmints out of the yard...but what he wants more than anything is a home and family to call his very own. He's an active boy and would love an active family -- lots of walkies and games of tug-o-war and fetch. He loves to play with his family with toys and he has a favorite he likes to carry around the yard in his mouth. Dutch is 8 years old, up to date on his vaccinations, and on heartworm preventative, neutered, and microchipped. Dutch needs to be the only pet in his new home so all the attention and lovin' is lavished on him. BUT he enjoys great playing ball with his humans and taking long walks and time just spent together. When no one is home, he crates well but he loves to play and spend time with his family when they come in. Dutch is awaiting his forever home.

Dutch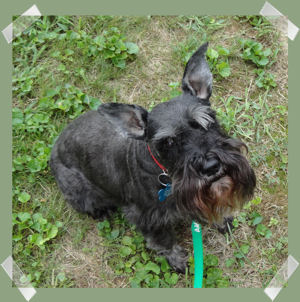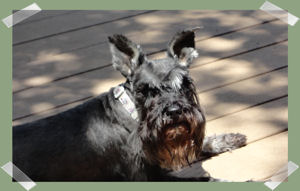 Support Simon by clicking
on the PayPal Button
Simon

Ahhh….sweet, sweet Rosie. Sweet and she's a character to boot!!! Rosie is a little livewire. She came to rescue from a neglectful situation. Someone had purchased her as a puppy but didn't have the time for her so she raised herself for the first two years. Then they no longer wanted her so to rescue she came. When Rosie arrived you could not get near her-she'd had so little attention in her lifetime that she was scared of people and every situation. After lots of work and time Rosie is a member of the household. She still has some issues and fears, but she loves her foster parents and foster doggy sisters. She's a cuddler at times and a player at others. She sure does love her squeaky toys and antlers for chewing. Rosie is looking for a home that understands she's only two years old and still has lots of puppy energy and playfulness but one also that will continue to work on her socialization and introductions to new situations. She's a cutie pie, a sweetie pie, and promises to be a very good girl.

Rosie will need a home with a fenced-in yard and a new mom or dad who likes to play with toys and play in the yard with her. She is up to date on vaccinations, spayed, microchipped, and on heartworm preventative.
Rosie

Melodie was a stray found by a Good Samaritan who turned her over to SFRA to find her a forever home. She is about five years old, spayed, up to date on her vaccinations, microchipped, and on heartworm preventative. She is the best cuddler ever. If you're someone who is home a lot, her greatest joy is cuddling with her humans. Melodie is doing fine with her doggy foster brothers and sisters, but if they are elsewhere playing, she's just as happy hanging with the human members of the household. Your lap is never empty with Melodie in the house! It would be hard to find a dog that wants to be with her humans more than Melodie does. Fenced yard required.

She is a striking girl-a beautiful light salt and pepper/silver and on the smaller side. Her eyes will steal your heart.
Melodie

Support Tyler by clicking
on the PayPal Button
Tyler's life changed dramatically when he arrived at SFRA. He is a puppy mill survivor who has never known the comforts of a warm bed, plenty of quality food, and human affection. He also arrived heartworm positive. Tyler has completed his heartworm treatment and has thrived in his foster home. Shy at first, he warms up quickly and is just looking for that one perfect home to assure him that his new life is fully under way and is a great one!

He has been vaccinated, neutered, and had a dental and completed his heartworm treatment. These charges added up to a vet bill of over $900. SFRA is in dire need of some help in paying for his veterinary costs. If you'd like to make a donation, please send to our PayPal account (use the button below) or mail a check to 10558 Mill Road, Cincinnati, OH 45240.

IF you would like be Tyler's forever home, please contact his foster mom, Nancy in Cincinnati, OH at kismet1@fuse.net
Tyler

ahhhh.. Sweet Jack. Jack lost his home when his owner elderly was no longer able to care for him. And that's about all we know. No one really took the time to get to know Jack or his story. His bag was packed and off he was sent to rescue. He's proven to be an exceptionally good boy. He's not a bigtime barker and is very chill. Most of the day he likes to spend on his doggie pillow snoozing away. He doesn't try to get up on the furniture so we figure he wasn't allowed in his former life. BUT, everyone has room for a Schnauzer on their sofa, don't they? We think he's around 7 or 8, but since those whose care he was in didn't get any information from his prior owner, we're really not sure of his birthday. He is a very loving boy and just loves attention. He was the star for the day at the groom shop when he had a spa day recently--so very good while he was beautified. Jack is neutered, up to date on vaccinations, microchipped, and on heartworm preventative. While he was not crate trained when he arrived, he'll settle down at bedtime and curl up for a long winter's nap in his crate.

If you'd like to learn more, contact Jack's foster mom, Heather in Cincinnati, OH at heath2070@gmail.com. For details about our adoption area, policies, and to complete our online application to adopt, please click here.

Support Jack by clicking
on the PayPal Button
Jack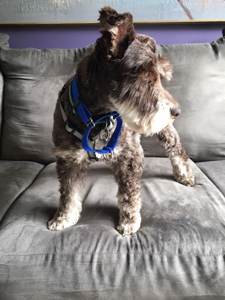 This tiny boy is Tommy. Tommy is a survivor from a "designer" puppy mill, so he is probably not 100% schnauzer. We are not sure what he is mixed with, but I have a hunch he is half schnauzer, half sweetheart!! Tommy is 3 years old, is a whopping 10 pounds, and most of that is heart. Although Tommy has had a rough start in life, he is learning how to be a great pet, and wonderful companion. He is a little shy around humans, but is quickly learning that not all people are bad, and snuggling on the sofa is a wonderful way to live! Because of Tommy's teeny tiny body, we are looking for a home with no children under 12. Tommy would also like to have another doggie to play with, since other doggies help him learn how to act in his new home. Tommy has been neutered, microchipped, is current on vaccinations, and is on heartworm preventative. Tommy is working on his housebreaking skills, and is doing wonderful, and has NO accidents!!!!!!!!

If you want to learn more, contact his foster mom, Lisa in Columbus, OH at lisa_k_gray@yahoo.com , or the first step to any adoption is to complete the online application to adopt--click here.

Support Tommy by clicking
on the PayPal Button
Tommy


Bruiser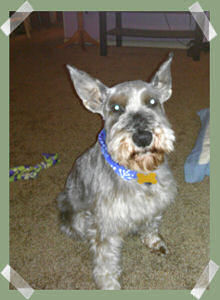 Bruiser is an awesomely good boy who is happy playing fetch. He is easy-going and gets along with kids. This 6-year-old fella is neutered, up to date on all vaccines, heartworm negative and on preventative, microchipped, and ....he's housebroken!!! He's sweet as can be and looking for that one forever home. For more information, email his foster mom, Heather in Cincinnati, OH at heath2070@gmail.com or to complete our online application to adopt, click here.
Support Bruiser by clicking
on the PayPal Button
Simon is a terrific five year old guy. He's been very busy stealing the ball from Bruiser during playtime in his foster home. He's showing himself so far to be housebroken, easy-going, and gets along with kids. Simon is neutered, up to date on his vaccinations, heartworm negative and on preventative, and microchipped. He promises to be a very good friend and sounder of Schnauzer alarm when strangers are round.

If you'd like to learn more, email his foster mom, Heather in Cincinnati, OH at heath2070@gmail.com. If you'd like to adopt Simon, the first step is to complete the online application to adopt, click here.
Meet Toby!! This little sweetheart tops the scales at a whopping 7lbs! He is a small Schnauzer mix--mixed with what--we are not sure, but what matters is he thinks he is all schnauzer and it's what's in the heart that counts!!

He is about 3 years old and was a little shy and timid around humans at first. You see, Toby is a survivor from a designer-type puppy mill and.....well, he hasn't had much of a chance to explore his surroundings on his own terms and become his own dog.

Once he moved in with his foster family, that all changed. It only took a day or so for Toby's personality to peek out. He has discovered that humans are his friends and they want to give him love and positive attention. He now follows his humans all around the house and wags his tail as he gets to check out his surroundings. Toby's favorite discovery was the basket of doggie toys! Now he entertains foster family as he drags out the toys one by one and tries to figure out what to do with them.

He loves to be near his humans--he wants to snuggle when you sit down to watch TV or read a book. He also loves his furry foster sister, Heidi, and follows her around and loves to snuggle next to her when a human isn't available.

Toby would be best suited to a family with older children (12+) and with a family that has another dog that would love a small companion. A home with a well secured fenced in yard would be in Toby's best interests as well.

If Toby sounds like the Schnauzer you must have, please click here to read our adoption guidelines and fill out an application. If you have questions before adopting, contact Toby's foster Mom, Jenn in Columbus, OH, at jrduffy72@gmail.com.

Toby
Support Toby by clicking
on the PayPal Button