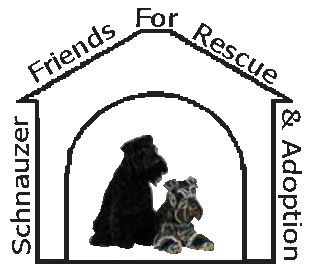 A Non-Profit 501(c)(3) Organization
Copyright © 2008-2014 All Rights Reserved

SFRA is a 501(c)(3) Non-Profit Organization
and is NOT associated with any other
Cincinnati-based rescue organization.




Website developed and maintained by
Website to the Rescue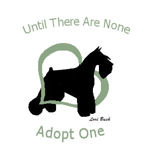 Use GoodSearch for your internet searching, and you are automatically raising money for our Organization.
(Click Below)

Contribute to our Organization
with a donation of any size
(Click Below)
Our Available Miniature Schnauzers

Saving the life of one dog isn't going to change the world,
but saving one dog's life will change the world for that dog.

Don't forget to sign our Guestbook so we know you visited us
Feel free to contact the foster parent listed in the rescue's bio for more information about that dog, BUT the FIRST step to any adoption is the completion and submission of our online application. Please CLICK HERE to complete our application to adopt.
Most of the time, the adoption fee an adopter pays does not cover the cost of the medical care these little ones need when we get them. Most need to be spayed or neutered, updated on all of their shots, and tested for heartworm. Some are sick due to improper care and need to be on medication or have other surgeries, which can be very costly. Thanks to your generosity, we can save another life and get him or her placed in a loving environment. To Sponsor a Rescue please click on the PayPal Button beneath the Rescue you wish to sponsor. It will take you to the PayPal log-in screen. The dog's name is filled in for you and you can complete the amount you wish to donate to help us out. Thank you in advance for your thoughtfulness and commitment to rescue.
Sponsor A Rescue
Special Needs Dogs Have Love to Give, Too.

Meet Rusty
aka Vinnie
UPDATE: Vinnie passed away in early August 2012. We extend our sympathies to Laura on her loss and accolades to her for giving Vinnie an awesome life with great quality, caring, and much love. God speed little one.


Vinny was one of our rescues. Although Vinny has already been adopted, we are posting him on this page as a representive of all Special Needs Dogs out there. Even a Special Needs Dog deserves a forever home, and even a Special Needs Dog can provide lots, and lots of love to his/her people.

This is a testimonial letter we received from the adoptee of Vinny.

Hi Nancy,

I think we have written back and forth before about his health issues with diabetes and his eyes. Just to update you, he has had diabetes for a couple years now. He is doing very well, with the exception of his eyes. Anyway what happened is, he got cataracts and within about a month of that I took him down to Ohio State Veterinary College. Unfortunately, they said he was not a good candidate for surgery, so at that time I was just given drops for his eyes. In a few months when we went for a re-check his eyes had gotten worse and they recommended completely removing them. They were bright red and looked swollen to me and basically were so inflamed that they were probably hurting him. It was a hard decision to make since I knew I would miss looking into his beautiful eyes, but we went ahead for his sake and took out both eyes. He was already blind, so it didn't really matter. Now he is doing just perfect. He gets around the house and yard, and in and out of the doggie door so well no one would know that he can't see. He has extreme sensitivity outside when we our on our walks to miss obstacles and change course so easily and is keyed to my voice so well all I have to do is say whoa and he shifts his direction.

What I wanted everyone to know is that a blind dog that has to get shots twice a day is really no problem at all. He is very easy to take care of and not seeing has not changed his personality. He still will play and wrestle with the other dogs and comes gets his loving when needed. Only thing he can't do is jump up and down from the couch or bed and yet he has done that once in a thunderstorm when he wanted down. Everything has worked out pretty good...except for my credit card of course. The operation was about $1000.00.

Hope everything is going well for the rescue group.
Take care,
Laura J.

Interested in one of them?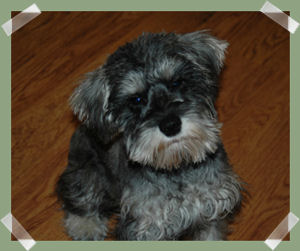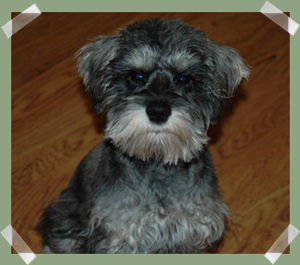 Our Sweet Sam is just the bestest little boy! And oh so handsome! Sam just wraps his paws around your heart and hugs oh, so sweetly. Little Sam is now 15 mos. old but has yet to find that special person that will look past his medical condition and give him a forever home. Sam has "dry eye". That's to say his eyes are not producing enough tears to keep them well lubricated. He is on a couple of medications that must be given at regular intervals throughout the day (not overnight). The medications cost approximately $100 a month. So, Sam has a couple of very specific needs. In return for medications given regularly, he's full of loving and lives to please and loves to play with his doggy foster brothers and sisters. The right home for Sam must be willing to take on the expense of his medications and be available to do his medications several times a day every day of the week. Sam will make an awesome friend for someone who is willing and able to manage his medical condition. It really is not a big inconvenience to give him the medications in return for all of his entertaining antics and playfulness, as well as his complete devotion to his mom/dad.
Sam

Ahhh.....sweet, gorgeous Bella. What a looker!! So laid back and sweet. Bella is 8 years old and comes to us because of some life changes. Her mommy passed away to cancer and she has been well cared for by family members for the last couple of years. But, Bella's caretakers are active and travel and Bella really craves a quieter lifestyle centered more around home. They have provided a great home for Bella with lots of love but feel she would be more comfortable and content in a home where someone is home most of the time and there are not a lot of comings and goings. Bella is obedience trained and has trained and run agility. She is enjoying snuggling in a lap or on a cushy dog bed in her foster home. She enjoys playing with toys and learning new things. She has an awesome nose and is working on searching out odors as a new activity.

Bella is special needs because she is blind. BUT by no means does Bella let this define who she is. She is healthy, active, loves to play and be with people, and also loves a good cuddle in your lap. She enjoys working through her obedience and showing you what she can do. Bella is looking for a quieter home with someone who is home most of the time so that she does not have to go into new environments and learn her way around very often. She would prefer to be an only dog with doggie parents who enjoy walking and spending time with their furbaby.

If you are interested in learning more, please complete the application to adopt by clicking here.
Bella's foster mom is Susan in Lexington, KY, saveaschnauzer@yahoo.com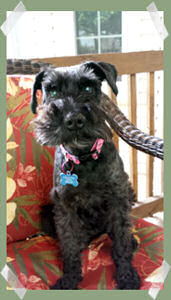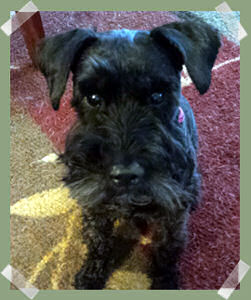 Support Bella by clicking
on the PayPal Button
Bella

Support Daisy Duke by clicking
on the PayPal Button
Say hello to Daisy Duke!!! Isn't she a sweet-pie, cutie little darlin'? Daisy is a 5 year old liver-colored Miniature Schnauzer. She is new to rescue and we are still getting to know her. She is so sweet and laid back and is doing very well with her doggy foster brothers and kitty foster siblings, too. Every so often, you will see Daisy and one of her foster brothers race romping through the house in play.

Daisy is having some allergy problems, like many Schnauzers in the summer, and we are vetting her to get her some relief. Daisy is taking medication to control her allergies and give her some relief. She may need further evaluation in the future, but she is feeling so much better. If interested in learning more about SFRA's adoption policies and coverage area, please check out our online application to adopt found by clicking here.

UPDATE:::::: We have worked diligently with our vets and little Daisy to get her some relief but we've not had the results we had hoped for. We are placing Daisy on medical hold for right now so that we can allergy test her and design a new plan of treatment so she can get even more relief than we've been able to give her up to this point. The testing and treatments are expensive and SFRA sincerely needs your help in curbing some of these expenses. Please help Daisy by donating to us at the address found on our Ways to Help page; use the PayPal button below to donate online; or email kismet1@fuse.net to ask how to donate directly to our vets. Daisy is the sweetest thing ever and will so appreciate a life that does not involve incessant scratching and skin problems caused by allergies--your donation can help us achieve that for Daisy.
Daisy Duke

UPDATE 8/19/14:
WOWSER!!! DO WE HAVE NEWS!!!!!! Gio is our sweet little puppy mill survivor that endured years of chronic allergies, ear infections, and who knows what else while he was kept as a breeding stud in the puppy mill in deplorable conditions. His former life left him with calcified ear canals and chronic pain and ear infections and pretty much deaf. Well....are you ready? are you sitting down? GIO had his surgery. In fact, Gio sailed through with masts unfurled and flags waving. Woohoo!!! In fact, other than a little bit of eye blinking problem which is sometimes a sequel to the surgery and we hope will slowly be regained, Gio was amazing. And he loves everyone and has blossomed into such a sweet little man.

NOW--are you still sitting down? GIO HAS A FOREVER HOME!!! A wonderful family saw him, fell in love with him, and claimed him as their own. He has a family, a warm bed, great food, and his very own little boy to play with every day!!! We are over the moon about Gio's good fortune and are enjoying the update pictures and notes from his new family. We've posted a couple here that his new family wants to share with everyone who had a part in Gio's recovery so you can see him chilling and enjoying the good life!!! We love you Gio!! And we love everyone who contributed to help him. Without the help of the village that donated so selflessly to help Gio, this may not have come to fruition. You are all just the best and Gio sends many thanks to the many people that helped him. Goal 1-Help Gio to better health so he can be pain free and have a normal dog's life. Check. Goal 2-Find Gio the most awesome forever home where he will always have good food, a soft to nap on, a bed to sleep in, family to love him, and not a care in the world. Check. GO GIO!!!! Thank you all, many times over. From the bottom of our heart--all of the volunteers at SFRA.


GIO--What a wonder he is. Gio came to us as a puppy mill surrender and has been with us several months. You can read his story on our home page. Gio has blossomed while he's been in foster care, he also had a much needed operation for his ears--damaged by years of life in a puppy mill with improper veterinary care. Now, Gio is all well and ready to start that search for his perfect home. He hears only a little bit since his ears were damaged in the puppy mill, but he is a feisty and sweet fellow that is now ready to give love and receive love--something he's never had in his life.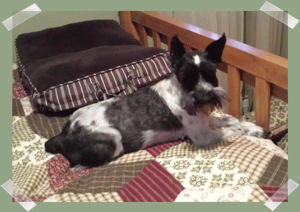 Gio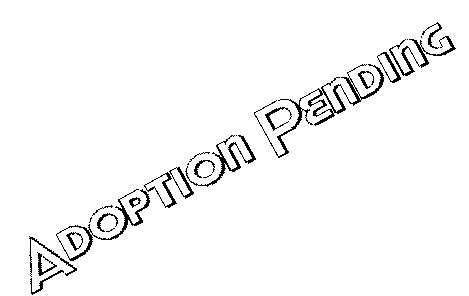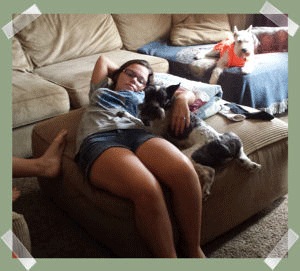 Support Laci by clicking
on the PayPal Button
Laci is a sweet, lively 2-year old miniature Schnauzer and (we think) Yorkie mix. Laci adores everyone she meets and gets along well with all the dogs at the dog park - big and small! Laci and her foster sister, Sammie, enjoy playing and frolicking in the backyard and Laci also likes going for walks and jogs. Laci is all puppy - easily excitable and still learning boundaries. She would appreciate a family who understands her breed and who is willing to give her a second chance. She is a quick learner and wants someone who will be patient, gentle, and persistent with behavior and potty training. She would do well with someone who wants to spend the time to help her learn her manners and will re-pay in puppy kisses and tail wags. She would love a home with another dog who likes to run, romp, and play.

Laci weighs 15 pounds, is crate-trained, up to date on her vaccinations, spayed, and on heartworm preventative. She is a gorgeous, sweet girl that will bounce into your life (ok, she will nap occasionally) and bring a smile to your face.

If you want to learn more, please contact Laci's foster mom, Cathryn, in Columbus, OH at cchellis@me.com If you think you're the family for Laci, please complete our application to adopt found by clicking here.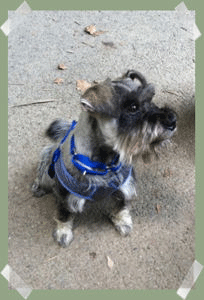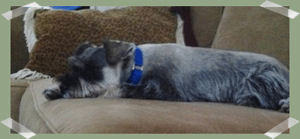 Laci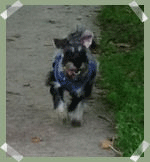 Support Scotty by clicking
on the PayPal Button
This handsome boy is Scotty. Scotty is a lovable guy who is happy playing with other doggies his size or just relaxing on your lap. He know some basic obedience and his foster mom says he is the perfect house guest!!! We've discovered Scotty has a spinal issue in his lower back that gives him a little discomfort, just like lots of us older folks. And just like us older folks, he has medication for this. While he runs around the yard and plays with his Schnauzer foster brothers and sisters as if there is nothing wrong at all, we feel for his peace of mind he will do best in a home with no children so that one does not try to hug him too closely or pick him up and give him a backache--he doesn't want to be grumpy with someone because he is afraid they will hurt his back. He would be the perfect companion for empty nesters or he would be content to be the only child of pretty much anyone that will love him. He will keep your lap warm and make you smile all day long. If you are looking for a wonderful companion Scotty is your boy!!!

Scotty is current on all his vacinations. He is neutered, microchipped, and is on heartworm and flea preventative. He's ready to bring his toys and settle on your couch!!

If you want to learn more, contact Scotty's foster mom, Lisa in Columbus, OH at lisa_k_gray@yahoo.com If you are interested in adopting Scotty, click here to complete our online application to adopt.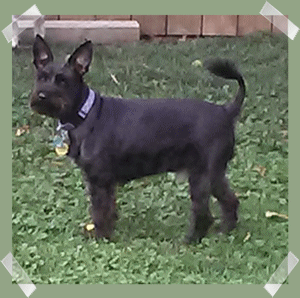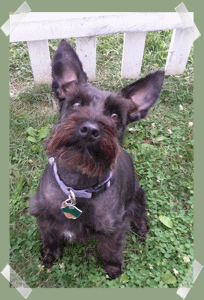 Scotty


Bailey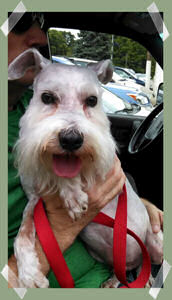 Give a big welcome to Bailey. A sweet, alert, and active 6 year old. Bailey has lost his home and SFRA is going to do its darnedest to find him a forever home full of love and soft doggie beds just for him. But.....Bailey comes to us with some needs first---He has a collapsing trachea, possible heart disease, a heart murmur, an allergy flare (like everyone else this summer, Bailey has allergies too), and in terrible need of a dental. We are in process of vetting him and getting him healthy enough to perform his dental. Bailey is on medical hold for these first few weeks as we work with him to get him into tip-top shape. On the good side, he is heartworm negative and real sweetie pie.

You can email his foster mom Jenn, in Columbus, OH, at jrduffy72@gmail.com for more info on Bailey, but right now SFRA needs help with getting all of his vetting taken care of.

Please check out our Ways to Help page on our website for an address to mail donations to; use the PayPal button below to donate online; or email kismet1@fuse.net to ask how to donate directly to our vets. Bailey appreciates any and all help Schnauzer loving souls may give to give him a paw back to good health.
Support Bailey by clicking
on the PayPal Button
Watch Bella on You Tube