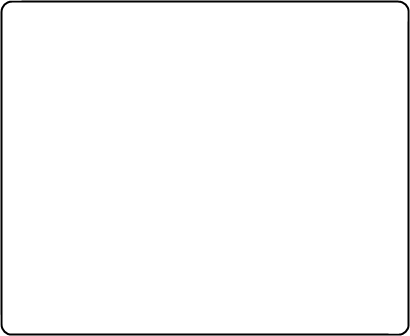 Who We Are
Schnauzer Friends for Rescue and Adoption
is an all-volunteer, non-profit 501
(c)(3) organization of Miniature Schnauzer lovers that began saving lives by working
with shelters and stray animal population reduction through spay/neuter programs in
1996. Beginning with only a few admirers of the breed and taking in a few rescues at
a time, SFRA has remained steadfast in its commitment over the years to save as
many lives as possible and to spread the word of the emotional fulfillment in adoption
and the joys of the Miniature Schnauzer breed.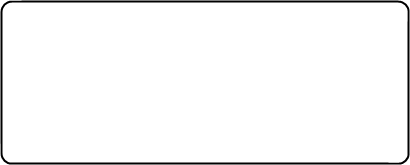 Gift Shoppe


Our Gift Shoppe is finally open for business.
Check out all the great items for yourself, a loved one (or two) and your Fur Kid(s)

Click HERE to enter our store and start shopping.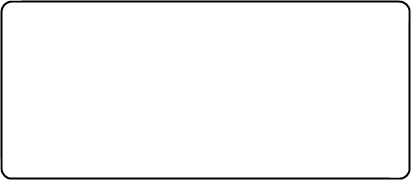 Foster Homes Needed:
SFRA is made up completely of volunteers and remains in continual need of committed foster homes. If you can give a little of yourself to help house and care for a rescued Miniature Schnauzer for a short time until a permanent, loving adoptive home can be found, click here to learn more and to apply. We would love to talk with you about SFRA and our commitment to our furry buddies.
Our Donors….our Lifeblood

SFRA survives solely on public donations that reflect your belief in and support of our efforts to rescue and rehabilitate homeless Miniature Schnauzers.

Your generous contributions and attendance at our Midwest SchnauzerFest fundraiser pay the veterinary bills and purchase food and supplies throughout the year that keeps us going. Contributions may be made by check to SFRA
(click here for address)
, PayPal, or through Network for Good.org.

The Rescued
By Lisa Gray in Memory of Tony

I invited you into my home without hesitation
I don't where you came from, or really who you are
You looked at me with big brown eyes
wondering who I was
or if I would cause you any harm.
As you crawled upon my lap
and laid your head onto my heart
I knew you had found your forever home
cause I loved you from the start.
As the days, months, and years went by
My love for you grew stronger
until the day you let me know
you could stay with me no longer
As I looked into those big brown eyes
I sadly let you go.
Even though I miss you
and think of you each night
you taught me that another
would never take your place
but they would always be
love at first sight.

Thanks for our Belly Band donation.
If you need Belly Bands, you can help rescue at the same time.
Go to http://www.k9bellybands.com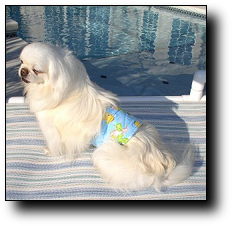 Gio Needs Your Help:
Many, many thanks to all who have helped us with the expenses of Gio's (See donor list here)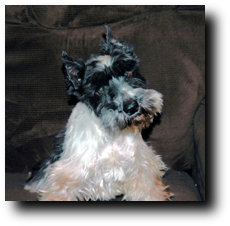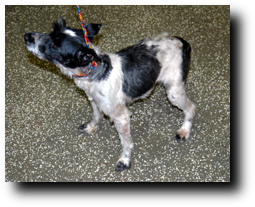 A donation of
any amount
makes a difference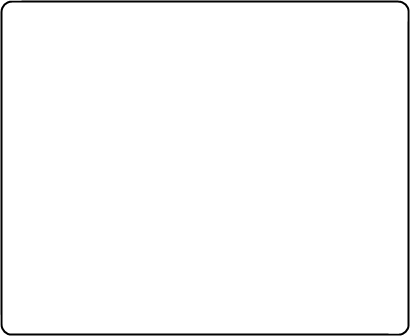 Thank you to Silvie Bordeaux with Muffin's Halo
for the donation of a Muffin's Halo to rescue.
We appreciate your efforts and send many thanks to
Dori and her to Abi at Rainbow Bridge for your donation.
http://www.muffinshalo.com
Muffin's Halo Guide for Blind Dogs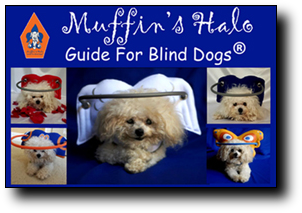 Update: 6/29/14
You can read Gio's full story below, but we have the most awesome news---Gio has had his ear surgeries and is recovering beautifully. The vets say he will feel so much better after he has healed. We are excited because now, at long last, Gio will get the forever home that he deserves. We are so grateful to everyone who cared for him and SFRA's mission with these babies and contributed to the costs of his surgery. The reward is now seen-_Gio is healthier than he has been probably in all of his life and is now happily ready to start down the path of finding his forever homes. He sends his whisker kisses and thanks to all who have helped him. It's been a long road, but a rewarding road.

---------------------------------------------------------------------

Update: 1/19/14
Gio Update: He is doing well, but still has a bit to go. We are in process of scheduling his first surgery for his ears and he will also likely need some more dental work the vets feel. We are a little short of the $5600 we were quoted for his ears so if you wanted to help Gio and just haven't gotten around to it, please click on the PayPal Donate buttom below to support Gio and all of our other homeless Miniature Schnauzers.

---------------------------------------------------------------------

This is Gio. Short for Giovanni---a name that means a Gift.

He is a 5-6 year old parti-colored Schnauzer. Gio came to SFRA in a puppy mill surrender situation. He is truly a survivor and a gift to us and everyone that meets him. Just a sweet soul in a body that needs some repair. As is often the case with a puppy mill survivor, Gio has a long path to go in his emotional and physical rehabilitations before he'll be eligible to go to a forever home. He is not accustomed to human attention and loving-he's never known anything kind and loving. He will simply stand on the floor or melt into a heap on the floor when placed there. We are working hard on his emotional rehabilitation and know that it will come with patience, understanding, and most of all-love. We have several dedicated SFRA members spending time with him and taking him for walkies and just being a gentle presence for him.

His physical rehabilitation…well, that's where SFRA and Gio need some help. He is prone to allergies and of course these were not treated in the puppy mill. His allergies are so bad that his skin is a mess and we are treating it and hoping for rapid improvement with good food and medications. Then there are his ears----love his little heart. Poor Gio had an ear infection that never ended or had so many one after another that his ears became so inflamed over the years that his ear canals have calcified. The size remaining at his ear opening for sound to travel through is the size of a pin head-everything is full of horrible gunk and calcified tissue. Basically, Gio is extremely hard of hearing at best and likely deaf. If you rub on the side of his neck, you can feel these ear canals-they feel like a roll of quarters in his neck, on both sides. He doesn't complain, he is too scared still to want to speak up much-he just keeps quiet hoping nothing bad will happen to him. BUT, Gio needs a surgery for this condition of his ears or he will only continue to get one ear infection after another lifelong. This is a specialized surgery, a TECA is the name of the procedure, that only a board certified veterinary surgeon can perform. We have been quoted a price of $2100-$2800 PER EAR and this needs to be done in two separate procedures to the intricacy of the surgery and time under anesthesia.

SFRA is hoping to raise $5500 to pay for these surgeries to give Gio some much needed relief and as a symbolic start to a new life in a new home with loving parents who will always take care of his medical needs. Without the surgeries, Gio will only continue to get one ear infection after another. Once his surgeries are done, he will be in the best position for a new forever home. But we cannot accomplish this without your help. Any rescue's largest expense is its vet bills and Gio's are going to be exceptional.

Since starting to do rescue in 1996, we have never had an expense like this on a rescued dog. We have also always been able to financially provide for all of the needs of all of the dogs we have rescued. This time, we need help. We know it's the Christmas season and that it's a tough time economically speaking, but we are hoping that many of you will see it in your hearts to donate $5, $10, whatever you can so that we can help Gio start his new life free of health problems and only dim memories of the place he came from.

We hope to replace those memories with happy ones of playing with balls and snuggles on the couch in front of a fireplace with his new mom and dad.

Just think, if only 1100 people donate $5 we would easily reach Gio's needs and be able to set his surgery date.

Please consider Gio's plight and help him.